Every move in go always has two types of effect. The first type is the direct gain of the move, like when capturing a few stones. The second type is the threat of the move, actions that become possible because of the move. Although difficult in practice, in principle both types of effect can be expressed in points, this is one of the beauties of go.
We all know two kinds of moves: sente and gote. Sente moves often have a small direct gain, but certainly have a threat worth quite some points. That is why we feel obliged to answer these moves, to handle the threat. Gote moves may have a big direct gain, but there is hardly any threat worth thinking about at the moment the move is played.
There is a third kind of moves though, hardly anybody seems to talk about it. You see these kind of moves often in the opening and middle game. These moves both have a reasonable direct gain, and have a reasonable threat, that you may, or may not want to handle right away. You may call that threat the follow-up of the move. Quite often the handling of this kind of moves is difficult, as both gain and follow-up are not clear cut. Could it be that AlphaGo is the master at handling these kind of moves?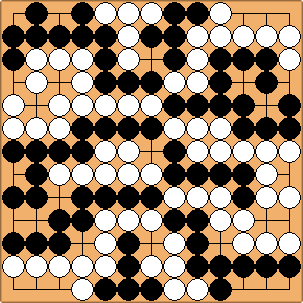 I have constructed the position shown with a few third kind moves, where the values of both gains and threats are totally clear. It looks like a late endgame, but you could treat this position as a model of the middle game, where a few alternatives have to be thought through. The sequences of moves are quite short, yet it is not at all easy to find out which is the best sequence when Black starts or when White starts. You might give this position a try, and in the meantime think about those strange moves of the third kind.
Kind regards,
Paul