I've seen games between a human player and Zenith Go, a strong computer Go engine. The games are quite interesting and show clearly the strength and weakness of the computer AI. The program plays reasonable opening (I suppose this is not hard to achieve because of the highly advanced pattern match algorithms and large professional game databases available). Its reading ability locally is quite good and rarely makes low-level mistakes. Surprisingly its yose appears to be quite weak - I would like to think yose is something that can be quantified more easily so computers should be good at it.
But the biggest weakness I can see is that Zenith Go rarely plan anything globally, nor can it understand its opponent's global plan. I can explain this using a real game.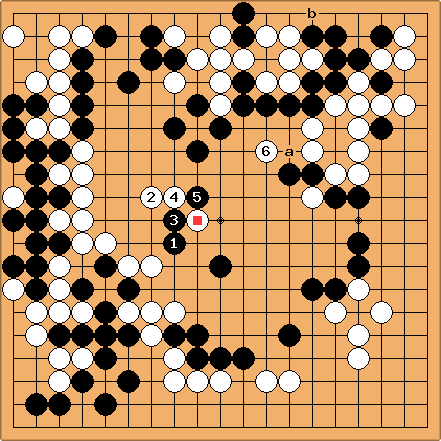 How computer AI is tricked
Black (the computer AI) is having big potential in the middle of the board. Apparently there is some aji around 'a' but jumping directly into the center at

doesn't work (note that 'b' is black's sente so the group is quite safe). So

wanted to prepare for the invasion. This is a very natural thinking by human-beings but computers must have a lot of difficulties understanding this.

is a sharp move locally, but clearly the computer AI doesn't realise the danger elsewhere.

continues his plan and white is tricked into playing the cut. Now

can easily break into the center.